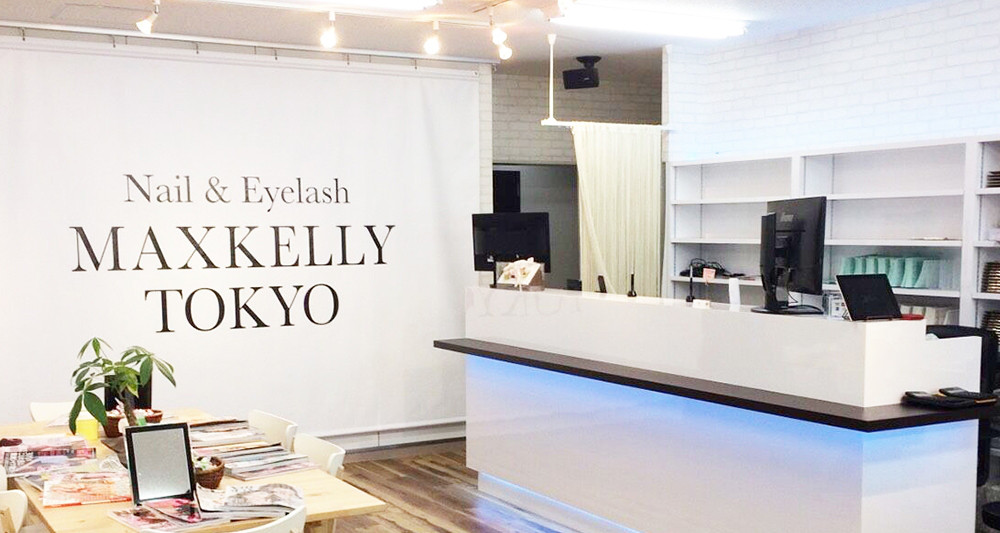 MAXKELLY, the Japan top class salon in number of reservations, has open in Fukuoka Tenjin.
Use your creativity with our any design you like Nail course!
As for eyelashes ? Get blown away by the latest technology: 4D volume!
And to top it all, Gel and eyelash removal is free.
The latest trending designs at your fingertips!
---
Menu
Please confirm pricing and treatment at the time of reservation.
NAIL
EYELASH &

PERM/EYEBROW
●

Please come without using any mascara, eyelash essence, eyelash curler or make up to your eyes.

●

Customers using contact lenses may have to remove them before the treatment for safety so please bring a case.

●

We may refuse to apply our treatment to person suffering the following symptoms or medical conditions:

・

Inflammation in the eyes and the surrounding skin.

・

Eyelashes extensions caused itching or swelling in the past.

・

Hordeolum

・

Conjunctivitis or allergies with painful symptoms.

・

LASIK surgery done within one year.

・

Plastic surgery such as Botox, hyaluronic acid injection done within 1 month in the eyes, nose,forehead,temple,etc.

・

Peeling surgery at the eye within one week.

・

Allergies from antibiotics such as alcohol for disinfection,iodine and penicillin, antipyretic analgesics such as aspirin, drugs used for examination at medical institutions.

・

Bad physical condition.

Our salon can not assume any responsibility if any of the above symptoms appear without any prior notice of the existence of such symptoms from you.

●

We may refuse,depending on the condition, treatment to customers with eyelash hair perms.

●

Please make a reservation more than two months after a LASIK/eye cosmetic surgery or art makeup.

●

Please inform us, at the latest, 3 hours before your reservation time if you want to cancel or change your reservation time.

●

Please note that cancellation fee will be charged if the 3 hours limit is exceeded.

●

We won't accept any more reservations if a cancellation is done without permission.

●

Running more than 15 minutes late to your reservation will be treated as a cancellation without permission.
●

Do not open your eyes or scrape strongly during treatment.

●

Glue (adhesive) will not enter your eyes but those with delicate eyes may feel discomfort when the glue volatilizes. The symptoms you feel will disappear by drying up in the wind, so please don't hesitate to tell us if anything troubles you.

●

Please feel free to tell the staff if you feel pain or itching during the treatment. (Depending on the condition eyelash treatment will be stopped)

●

Pregnancy, menstruation or poor physical condition may create abnormalities on the skin.

●

Lifespan of the extension may be shorten if you apply mascara, curl your eyes or if dirt such as wearing oil mist is accumulating on your eyes.

●

Eyelash treatment is not permanent. Therefore please note that we can not respond to requests for free redo after treatment.

●

Depending on the condition of your eyelashes, we may not be able to respond to your request. Please understand any complaint allegations, such as not being able to reach the requested number or that the extension tears off too easily will not be received. Refund request after treatment are not possible either.
●

Please do not wet your eyes with water for 5-6 hours after the treatment and avoid touching the eyes as much as possible.

●

Please do not use oil cleansing or essence containing oil as the extensions are vulnerable to these elements.

●

If you pull it by force, it will cause your own lashes to come off. Please handle carefully.

●

Please do not use mascara that is not dedicated to eyelash extensions.

●

Please do not curl your eyes after attaching eyelash extensions.

●

There is a risk of fibers becoming tangled if you apply cotton or towels around your eyes. Please be very carefull when using them.
---
Access
OVERVIEW
Nail: 29 places (60 nailists)
Eyelash: 26 places (55 eyelists)
ADDRESS
3F, Tenjin Yoshida Bldg. 2-1-53 Daimyo, Chuo-ku, Fukuoka-shi,Fukuoka
TEL
092-791-2999
OPEN
10:00〜22:00
CLOSE
12/31〜1/3
ACCESS
With Nishitetsu Tenjin station behind you, continue straight ahead between Iwataya main building and Iwataya Shinkan, you'll arrive in front of the Ramen restaurant "Ichiran". Turn right along the Tenshin Nishi street. You'll see Daio. Turn left just before crossing the street at the corner of the "EYE CENTER" (CHUOU CONTACT) shop. The 2d building you'll walk by will have a "rt" shop. The entrance is on the left of that shop, 3d Floor !
CREDIT CARD・
E-MONEY